Gnarly Wraps™ Industrial Protective Products!
Reusable Hose & Cable Protector Sleeves



Protective Sleeves made from Genuine 1050 Denier Ballistic Nylon Fabric. Designed to protect Hydraulic Hoses, Cables and lines from abrasion and wear. Features Reusable Hook & Look fastener good for over 1,000 open and close cycles. Wrap around enclosure design eliminates the need to disconnect hoses and cables to install the product, saving both time and labor, and eliminating the possibility of contamination or damage to electrical connectors and hose fittings during installation. Helps contain hydraulic fluid spray in the event of a hose burst, protecting personnel and reducing cleanup. Inside sprayed coating of Polyurethane aids in fluid resistance and creates a smooth, non abrasive surface that allows cable and hoses to move freely, reducing wear during movement and vibration.

Helps protect hoses from heat and Exposure to sunlight, making expensive hoses and cables last longer under adverse conditions. Suitable for use outdoors and in temperatures ranging from -60 F to 225 F. Available with inner diameters from 1'' through 8''. Custom sizes are available. Made in America.

Gnarly Wraps™ hose and cable protector sleeves are now available in Rubber Duc™ 18FR, a premium 18 oz. Fire Resistant Vinyl. They are available in 9 industrial colors: Grey, Yellow, Red, White, Orange, Black, Tan, Blue, Green.
Black Industrial Hook & loop is standard on all colors of Gnarly Wraps™, but different colors of Hook & Loop can be special ordered as a custom item. High visibility hose wraps are also available with reflective tape.

Gnarly Wraps™ are now available with Custom Printed Tyvek® Labels.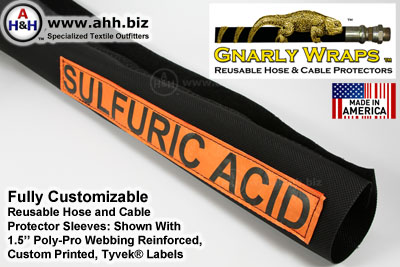 Use Custom Printed Tyvek® Labels on Gnarly Wraps™ hose & cable sleeves to identify contents, destination, hook-up information or color coding applications. Also called: hose protectors, cable sleeves, wraps, hose covers
Gnarly Wraps™ Industrial Protective Products, a division of:

American Home & Habitat Inc.
www.ahh.biz - Specialized Textile Outfitters
14396 Highway 1458
(Austin Parkway)
Sealy, TX 77474

866-458-2559 (toll free) Contact Us
Office Hours: 8:30 AM - 5:00 PM (Eastern)
Monday - Friday



All Gnarly Wraps™ Products are
Proudly manufactured in Texas, USA